The Best Christmas Gift for a Dandy Man:
If you want to be with a real dandy you should surprise him all the time so that he won't loose the interest towards his woman. Glamour designer watch made by someone with a world-wide reputation is the best Christmas gift for your fop. Choose watches with diamonds, because diamonds are the original glamour symbols. In this case Joshua & Sons Men's Diamond Chronograph Watch - is a perfect choice. This masterpiece's mere price is about $550, considering that the bezel is adorned, almost fully, with genuine diamonds.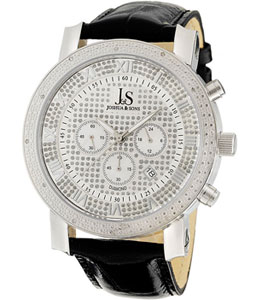 Joe Rodeo Junior Diamond Watch 17.25ct – anotherglamour watch model, but not for a jealous woman. With such watches on his wrist your dandy will be noticed for that special event or night out of town.
So as you see watches for a dandy should look fairly unusual, a bit weird like this one Patek Philippe Classic Watch 11 mens watch with the unusual dial decoration though still very stylish.